With their interesting personalities and friendly nature, guinea pigs are incredibly popular pets in many homes.
They are also very docile, do not bite, and do not require as much maintenance as many other pets. However, guinea pigs require regular exercise, and for many people, this is the most challenging aspect because of the risks associated with ensuring their pet's safety outside the cage.
These tiny critters can run away and easily get lost outside, so guinea pig owners often invest in a collar or harness. If you're considering getting one too, it is a good idea to look at its advantages and disadvantages first. And we've put together this guide just for that purpose.
So, check it out now before making a decision.
Is It Safe To Use A Collar For Your Guinea Pig?
You can use a collar for your guinea pig and even attach a belt when taking it outside for exercise to prevent it from getting lost. However, using a collar comes with certain risks, so you need to be aware of a few things, such as: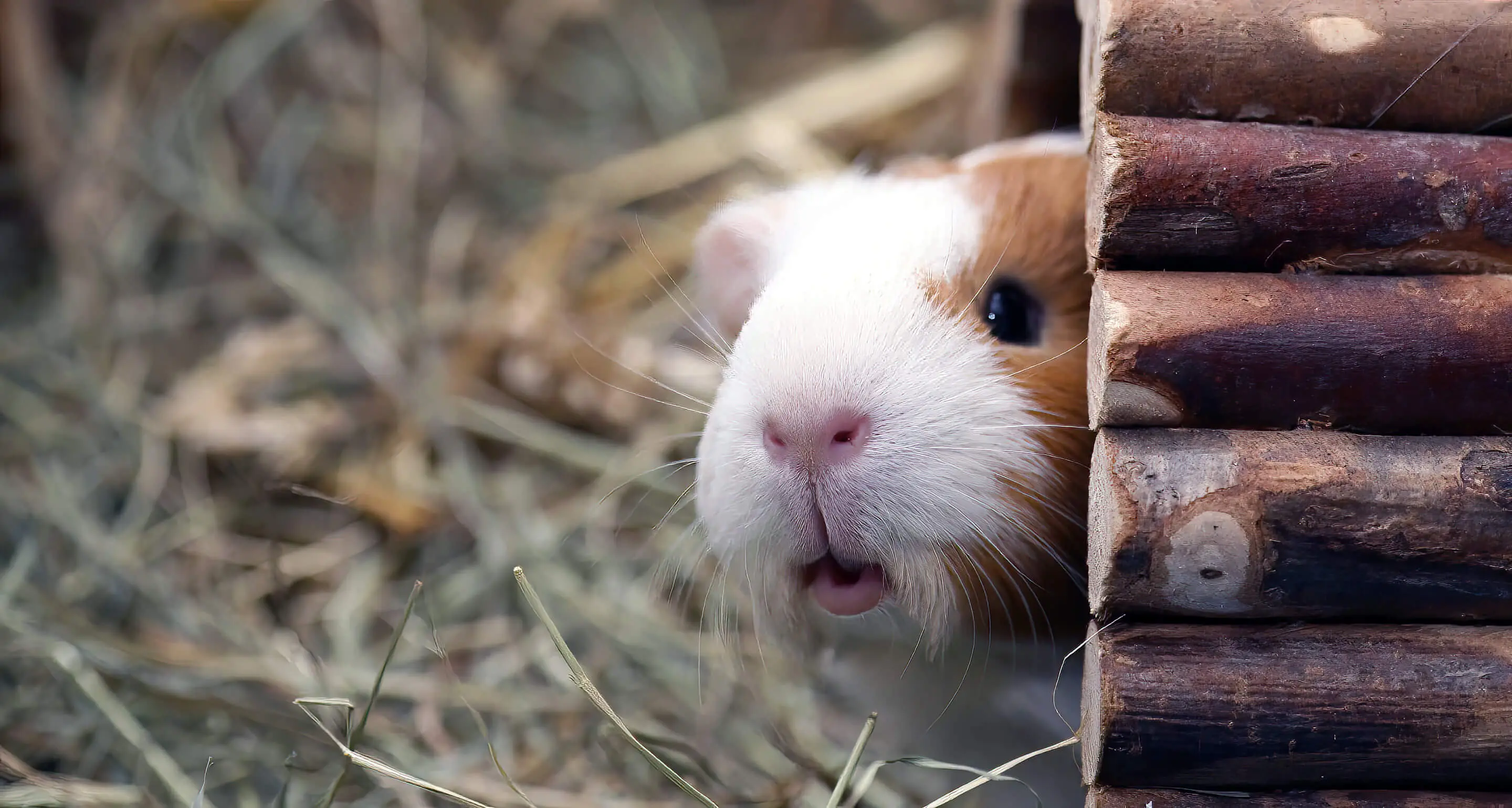 1. Ensuring Your Pet's Comfort
The first and most important step is getting your guinea pig comfortable with a collar. If it does not like wearing a collar, do not force it as that can cause serious problems.
2. Selecting The Right Size
Make sure to select a collar that fits perfectly. It should allow your guinea pig to breathe easily but should not be loose enough to slip over the head.
3. Avoiding Jerks And Pulls
Guinea pigs have fragile bones that can break easily, even with the slightest jerk. That is why you should avoid jerking or pulling the lead while your pet is wearing the collar.
4. Preventing The Collar From Getting Trapped
When moving about, your guinea pig can accidentally get its collar trapped under other objects, which will restrict its movement. So, make sure to perform frequent checks to prevent that from happening.
5. Never Leaving Your Pet Unattended
Like other small pets such as rabbits, guinea pigs should never be left unattended and should not be left tied to any object without supervision.
6. Using A Long And Extendable Lead
A guinea pig on a collar may try to run, which can result in accidents and may even cause strangulation. It is best to get a long and easily extendable lead.
Benefits of Using A Collar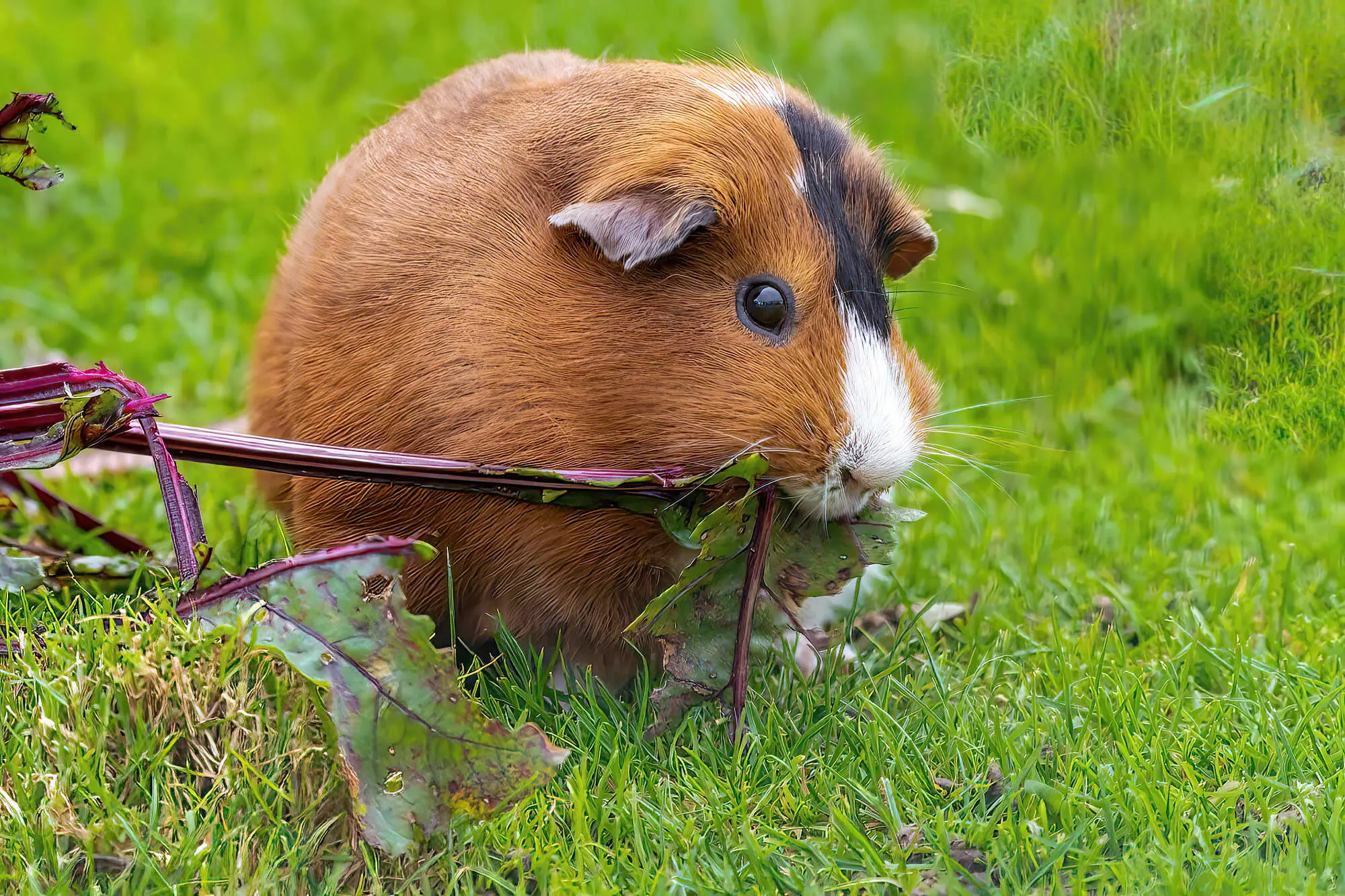 The main purpose of using a collar for your guinea pig is to prevent it from running away and getting lost. But even if that happens, a collar may help get it back when you attach the owner's information.
This information will ensure that you are contacted as soon as your pet is found.
Can Your Guinea Pig Wear A Harness?
Using a harness may be safer for your guinea pig than a collar since it distributes its weight more evenly. This will prevent any accidents even if you move it quickly. A guinea pig harness is secured by velcro or buckles, and just like a collar, it is essential to select the right fit.
A harness is usually used to train guinea pigs to move quickly and easily, also called agility training. But before that, it is vital to ensure your pet's comfort. To do so, select a harness under which you can quickly put two fingers while ensuring that it is not too loose to allow the guinea pig to escape.
Remember that a harness will ensure your pet's safety, but it will take some time for your guinea pig to get used to it. Also, remember that guinea pigs are not as intelligent as dogs and, therefore, are more challenging to train.
Types Of Harnesses For Guinea Pigs
There are three types of harnesses available for guinea pigs, including: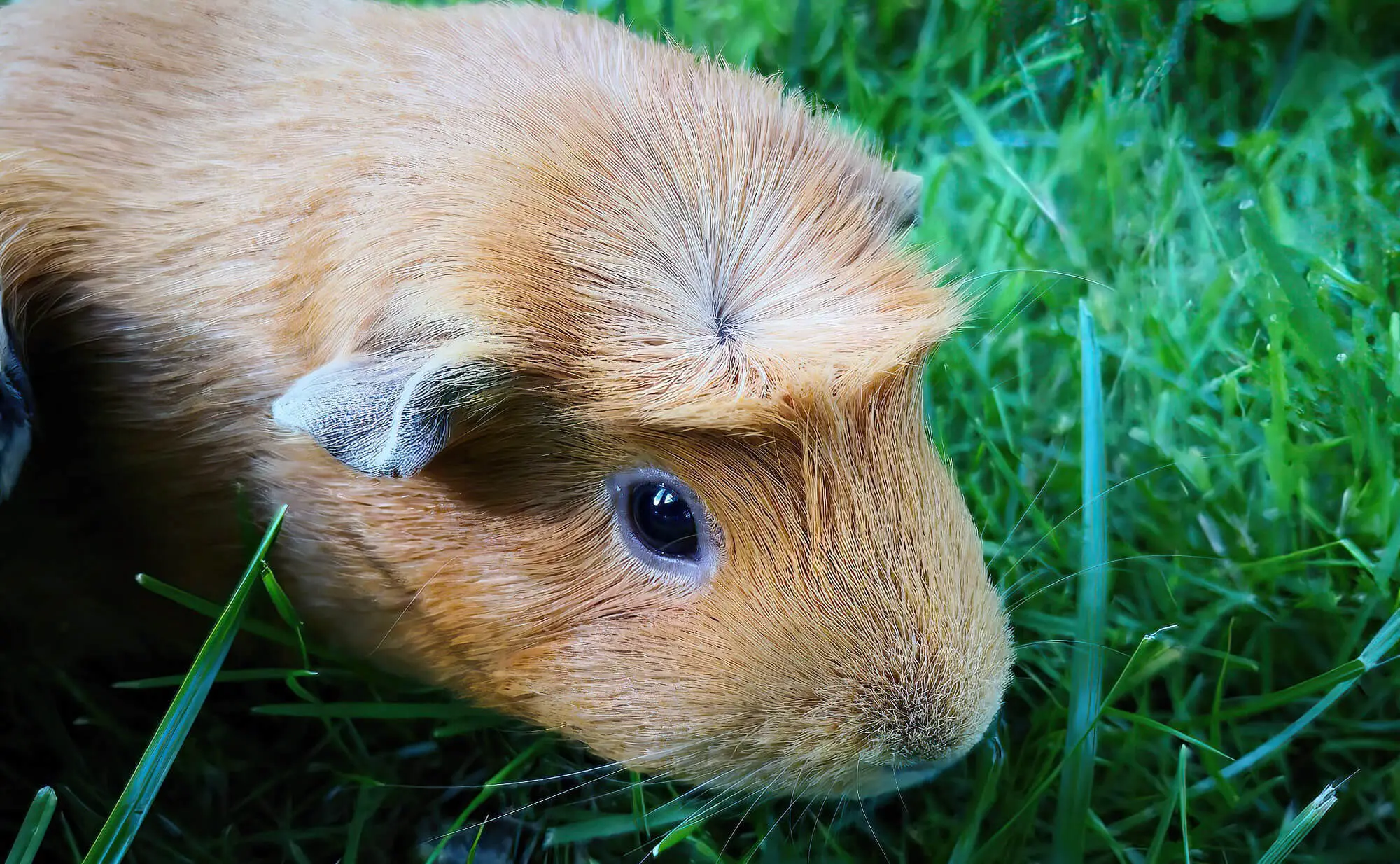 1. The H-Style
This type of harness is the easiest to put on and provides good breathability.
2. The Mesh Harness
Another comfortable and breathable harness is the mesh harness.
3. The Vest Harness
The vest harness offers the best hold and helps keep your pet properly secured.
Among these three options, the vest harness is the most popular since it delivers maximum comfort to your guinea pig. When putting it on, ensure that your pet is not getting hurt by looking for symptoms such as irritability, nervousness, fear of contact, and hair loss around the area.
If any of these symptoms appear, stop using the harness immediately.
Safety Tips For Using Harnesses
Using a harness is the best way to train your guinea pig, but there are some safety tips you should keep in mind.
1. Make Sure The Harness Fits Perfectly
The harness you choose should not be too tight or loose but should fit the guinea pig perfectly. A tight harness will cause difficulty in breathing, while a loose one can let your pet escape.
2. Avoid Using The Harness Every Time
Do not use the harness every time, as it can cause back injuries and may also cause your guinea pig to feel trapped. Additionally, limit its use for the same reason.
3. Provide Proper Training
Before using a harness, it is important to train your guinea pig properly, which will help make it comfortable and prevent stress. One way to make it familiar with the harness is to hold it in the same place where the harness would attach so it gets used to such contact.
Harness Training Your Guinea Pig
Training a guinea pig to become used to wearing a harness can be a difficult job and will require a lot of effort. That is why you should undertake it in stages.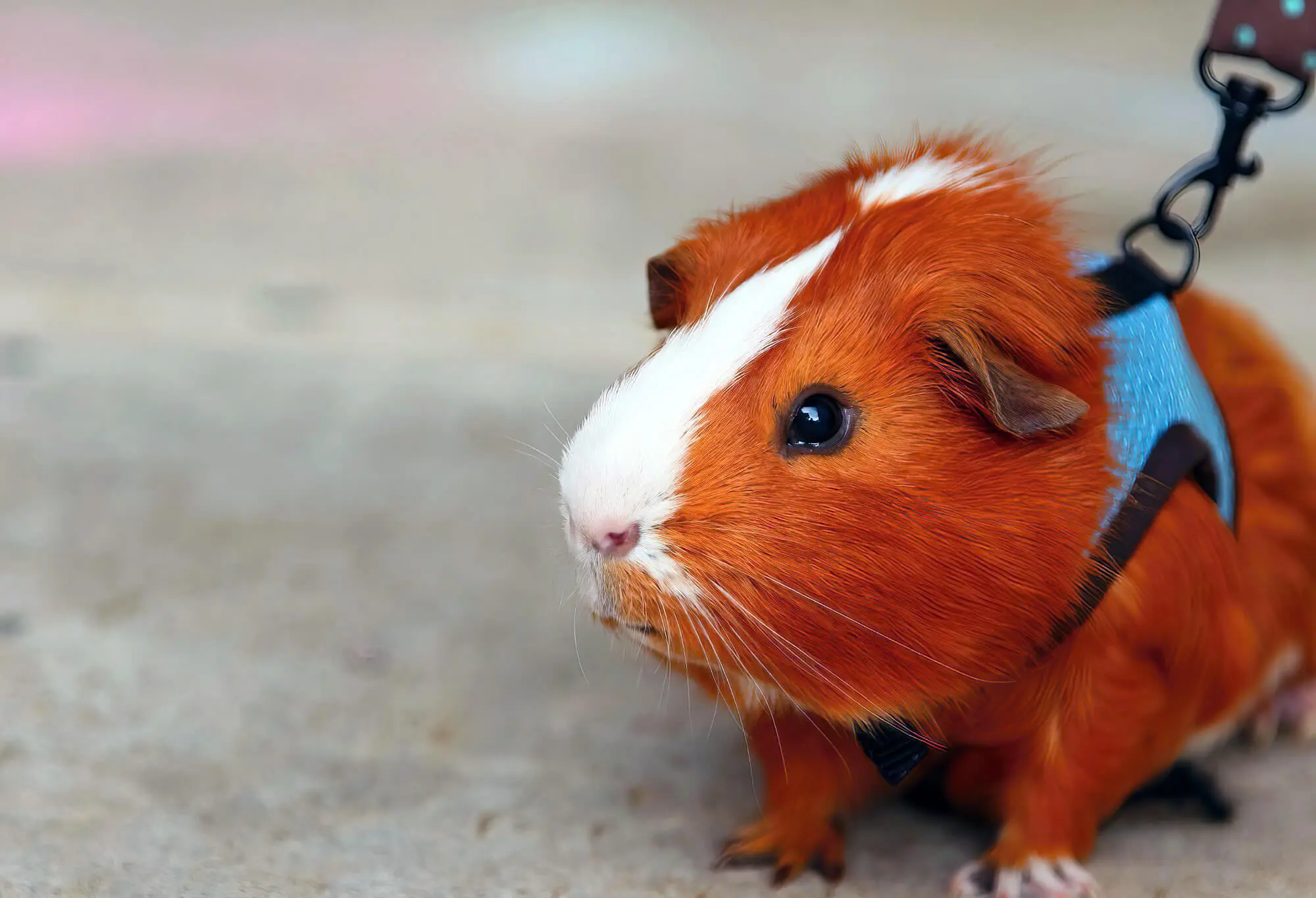 1. Introducing The Harness
The first step is to make your guinea pig familiar with the harness. To do that, place it on the floor and let your pet approach it. Soon, it will become familiar with the harness.
2. Attaching The Harness
Once your guinea pig becomes familiar with the harness, it is time to attach it and leave it on for at least 20 minutes. If your pet struggles with it, remove the harness immediately; otherwise, attach a lead to it and start walking it inside your home.
Once your guinea pig becomes familiar with this routine, you can take it for a walk outside.
Your Guinea Pig's Safety Should Always Come First!
A harness is a much better option than a collar for guinea pigs. It would be best if you didn't use it more than once or twice a week and waited until your pet was comfortable with it. This will require a lot of time and effort, but the results are worth it.
Please select the proper harness from the available options and pair it with an extendable lead for maximum safety.
See our guide on guinea pig breeds for more information about your little friends. Remember to shop for all your guinea pig food, cages and accessories at Planet Pet, the leading Australian pet shop online.